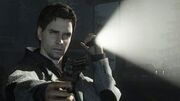 An acclaimed novelist suffering from a serious, long-term case of writers block, Alan Wake and his wife Alice retreat to Bright Falls to escape the bustle of the city. When Alice goes missing, Alan seeks her out while battling against a mysterious dark force.
Appearence
Edit
Physically, Alan is modeled on Finnish actor Ilkka Villi but in terms of appearance, he dresses smart-casual, preferring a tweed jacket with leather patches on the elbows layered over a generic hoodie with standard fit jeans and loafers. In the promo material, Alan is seen wearing a scarf but this is never seen in game. In terms of grooming, Alan seems to permanently have stubble and an unfussy, unstyled haircut, reflecting his relatively uncaring attitude towards his life since he finished The Sudden Stop and became afflicted with writer's block. In the flashbacks to two and three years before the game takes place, he is clean shaven, presumably due to having press commitments such as the Harry Garrett show, though it should be noted that on his cardboard cut-out that is seen throughout the game, he has his trademark stubble.
The Fall of Casey
The Things That I Want
Alex Casey
What I Can't Forget
Return to Sender
The Sudden Stop
Departure
Community content is available under
CC-BY-SA
unless otherwise noted.