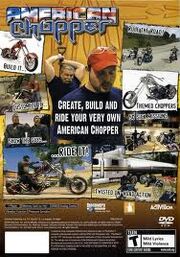 American Chopper is a series of games based on the Discovery Channel TV show.
American Chopper
Edit
A racing/bike building game based on the popular Discovery Channel TV series. Create, build and ride your very own American Chopper and be hired into the shop of the hit TV series American Chopper. Here's your chance to ride the bikes built by the Teutuls and featured on the show. Choose from the P.O.W./MIA Bike, Jet Bike, Black Widow Bike and more. But there's more -- you'll be sent on missions to create your very own, original themed chopper that will rival those built by Paul Sr. and Paul Jr. Experience first-hand all of the hard work, drama and thrill of creating one of the most beautiful bikes on the road today. The racing stages feature realistic handling and physics, as well as tracks that let you experience the dangers of the road: road construction, truckers, traffic and more.
American Chopper 2:Full Throttle
Edit
A motorcycle enthusiast's game based on Discovery Channel's hit TV series. Gamers take on the role of Paul Sr., Paulie, Mikey or Vinnie and are challenged to build four choppers for an upcoming motorcycle competition. All the while, gamers must compete in family battles, races and other biker challenges in order to earn bike parts and the respect of Paul Sr. Players test their custom creations at the final showdown.
Community content is available under
CC-BY-SA
unless otherwise noted.