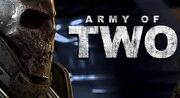 Army of Two throws gamers into hot spots ripped from current day headlines where they will utilize unique two-man strategies and tactics while seamlessly transitioning between playing with intelligent Partner AI (PAI) and a live player. When one man is not enough, it will take an army of two to fight through war, political turmoil and a conspiracy so vast it threatens the entire world.
Unlike other co-op games, Army of Two not only focuses on winning, it's about getting paid. As ex-Army Rangers now turned contractors for a Private Military Corporation, players spend their hard earned cash on more accurate and deadly customizable weapons. Players can use special co-op features to complete their paid missions including the new and unique Aggro feature that ensures their partner goes unnoticed when approaching enemies. Dependent on the intensity of their gun fire, distance, line of sight and type of weapon, players can put the enemy's attention on one player while the other plans a sneak attack to take them out!
Army Of Two:The 40th Day
Edit
When a disaster of epic proportions strikes Shanghai, China, Rios and Salem find themselves right in the middle of it all - the wrong place, the wrong time, but the right team. A carefully orchestrated series of mysterious catastrophes is dragging Shanghai to the brink of ruin, and now the Army of Two must fight their way through ravaged city districts as they try to beat the odds and uncover the secret of the 40th Day. ARMY OF TWO: THE 40th DAY features a bigger playbook of new co-op moves that either player can use at any time, opening up new strategies and countless choices for both players. The result is a bigger, better, more organic and immersive co-op experience that lets gamers put their best two-man tactics to use whenever and wherever they want.
Community content is available under
CC-BY-SA
unless otherwise noted.