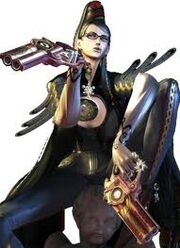 Bayonetta is a character in the game;Bayonetta. She is voiced by Hellena Taylor. She uses her hair to attack enimies in the game.
The concept of creating her outfit out of her hair was intended to fit into her design as a witch, which the development team felt meant she derived power from her hair. It was designed to both be a "means of adornment and protection" while also giving her appear "fashionable" and accentuate the movement of her limbs. During this process it was decided that as she summoned creatures to attack her enemies during the game she would lose partial control of her hair and end up in more "comfortable" attire; The character's model was created by Kenichiro Yoshimura, who observed non-Japanese models to keep her proportions authentic, giving particular focus to her backside which, as a result, led to it being made wider and more rounded than the typically slim-hipped female characters designed by Japanese artists.
Community content is available under
CC-BY-SA
unless otherwise noted.