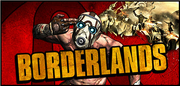 Borderlands stands out from any game ever made by using a modified Unreal 3 Engine, taking advantage of its physics simulations to enhance character, vehicle and visual effects. NVIDIA customers with 3D Vision hardware will be immersed into the game's hostile planet even further. Simply put, there's no other shooter that looks anything like Borderlands on the market today. Throughout the game, encounters with various creatures and bandits in the wasteland results in an onslaught of enemies literally jumping out of the screen to attack you.
Borderlands allows up to four players to cooperatively play through the campaign mode, which dynamically ramps up the difficulty as more players join the fray. The goal of the story mode is to search for a legendary vault believed to be filled with alien technology of immeasurable value. What separates Borderlands from other shooters is its unique 3D cel-shaded presentation, which has to be played to be fully enjoyed. 3D Vision accentuates the intense action by adding a layer of depth to the gunfights
In September a GameInformer issue came annoucing Borderlands 2.Shortly after that 14 minutes of Borderlands 2 footage was leaked onto Youtube.Borderlands 2 will also have no splitscreen for multiplayer.
Community content is available under
CC-BY-SA
unless otherwise noted.