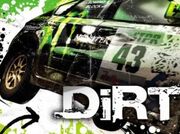 A reinvigorated McRae rally ride, built for next-gen systems for the realistic feel of racing off-road. This edition goes beyond the series' point-to-point rallying to deliver its most diverse selection of extreme off-road competitions yet. Sensational gravel, mud and dirt racing events from the world over will include perilous Hill Climb, collision-packed Rally Cross events, and grueling C.O.R.R. (Championship Off-Road Racing) events. The game also features international rallying competitions, with official cars on tracks based on real roads and locations around the globe. McCrae expands on beat-the-clock racing and include events with multiple cars on track to satisfy gamers who want to push their on-the-edge driving further. This 2007 edition also features official cars and official events across a wide variety of off-road and rally disciplines, the most authentic and thrilling tracks ever in a McRae game, and modes that make the most of online multiplayer.
Following on the success of the original Dirt as well as a decade of videogame development in partnership with the late Colin McRae, DiRT 2 explores various disciplines of off-road racing. Dirt 2 features a roster of contemporary off-road events, taking players to the most diverse and challenging real-world environments. This World Tour has players competing in aggressive multi-car and intense solo races at extraordinary new locations, from canyon racing and jungle trails to city stadium-based events.
The acclaimed off-road racing franchise returns in this third series entry. DiRT 3 delivers mud, sweat and gears the world over: from the intense weather-beaten rally stages of Europe, Africa and the US, to executing performance driving showcases and career challenges where car control is pushed to spectacular limits. The game boasts more cars, more locations, more routes and more events than any other game in the series, including over 50 rally cars representing the very best from five decades of the sport. DiRT 3 also delivers a new mode based on the sport invented by Ken Block;Gymahanka.
DiRT Showdown
Edit
An expansion on the rough-riding racing action of Dirt 3's gymkhana competition, Dirt Showdown offers three modes focused on the wilder aspects of off-road driving: Race, Showdown and Demolition! DiRT Showdown is exclusive for the Xbox 360.
Community content is available under
CC-BY-SA
unless otherwise noted.