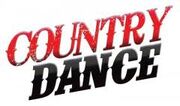 In Country Dance players utilize the Wii Remote as they mimic on-screen dance moves to their favorite country tunes and earn points depending on how well the moves are replicated.
Country Dance supports up to four players, so players can challenge or get in step with their family and friends in the competitive or cooperation modes. Song lyrics are displayed on screen as well so players can belt the high notes to their favorite tunes. Users can customize their character and unlock new songs and rewards as they progress through the game. Players can also rock out to their favorite artists such as Sugarland,Carrie Underwood,Tim Mcgraw and more!
Country Dance 2
Edit
Country Dance 2 is the sequel to America's favorite country dance video game that lets you dance and sing along to your favorite songs from country's biggest artists.
Country Dance 2 is easy to jump in and play; just pick up the Wii Remote and replicate the onscreen dance moves to start earning points with hot country routines. Plus, Country Dance 2 now supports up to four players at once for a whole new level of multiplayer fun including the all new duet dancing option that features unique choreography for each player during the same song. Whether you're cutting the rug on your own, line dancing side-by-side with your partner, or taking on friends and family in a dancing duel, Country Dance 2 will transform your living room into an energetic dance floor with mega hits from Amercia's best-selling country artists.
Country Dance 2 features over 30 of today's hottest country tracks from chart-topping artists like George Strait, Blake Shelton, Carrie Underwood, Miranda Lambert, Easton Corbin, Billy Currington, Eric Church, Little Big Town, Montgomery Gentry, and many, many more. Building upon the simple gameplay loved by fans of Country Dance, Country Dance 2 amplifies the fun with an all new sing-a-long feature, duet dancing, a new calorie-counting exercise mode and more!
Community content is available under
CC-BY-SA
unless otherwise noted.