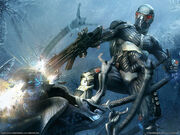 Crysis™ is a next-generation PC first-person shooter from Crytek, the award-winning developers of Far Cry. A stunning technical achievement, Crysis combines incredible visuals, cunning gameplay and an epic story that challenges gamers to adapt to survive.
Powered by CryENGINE 2™, Crysis delivers the ultimate DX10 gaming experience for the PC, including unparalleled graphics, special effects and artificial intelligence. The game is also scaleable to deliver a breath-taking FPS experience for older DX9 PCs.
The latest installment of the multi award-winning Crysis® series, Crysis® 2 is a visually stunning, next-generation FPS with a gripping storyline written by sci-fi author Richard Morgan. Built on the state-of-the-art game development solution, CryENGINE®3, it's not only Crytek's first multi-platform game, it will also be available in stereoscopic 3D.
Warhead (Expansion Pack)
Edit
Crysis Warhead features a pulse-racing storyline that takes you to all-new unique environments you can explore and destroy and introduces you to Crysis Wars, the new multiplayer experience for the Crysis universe. Crysis Warhead is built on an enhanced and optimized version of Crytek's award-winning CryENGINE 2 technology, bringing the jaw-dropping visuals and graphics you have come to expect from Crytek along with a distinct improvement in performance.
Community content is available under
CC-BY-SA
unless otherwise noted.