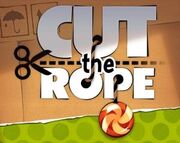 Cut The Rope is a puzzle game on the iPad, iTouch, iPhone. It has had a sequel and was a very popular game series. It was also relased on WiiWare. There has now been different versions of the game. It was then released on the DSi and Android. The goal of the games is to feed the candy to the monster.
Cut The Rope
Edit
Cut the Rope is an iPhone game developed by ZeptoLab and published by Chillingo. The goal of Cut the Rope is to get a piece of candy into your pet monster's mouth by cutting ropes. The game introduces more gameplay elements as the levels progress including bubbles, blowers and obstacles such as spikes and spiders. There are also three stars to collect in each puzzle which add to the difficulty. These stars are needed to unlock each of the other stages in the game.
Cut The Rope: Holiday Gift
Edit
Cut The Rope: Holiday Gift consists of one stage (box) of 25 themed levels. Like the original the game was developed by ZeptoLab and published by Chillingo. The gameplay is largely the same as the original Cut The Rope but with the addition of christmas stockings. The stockings exist as coloured pairs, with the candy able to enter one stocking and instantly exit the other with momentum conserved.
Cut The Rope: Expirements
Edit
On 4 August 2011, ZeptoLab published Cut the Rope: Experiments, the sequel to Cut the Rope. While its gameplay and presentation closely matches that of Cut the Rope, it introduces some new gameplay elements.
Community content is available under
CC-BY-SA
unless otherwise noted.