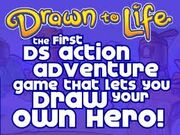 A dying village, embraced by everlasting winter, has cried out to you, the Creator, for assistance. The remaining inhabitants of the village need you to bring back all their lost possessions such as the sun, moon, fruit trees, fish, rain clouds, plants, animals and much more!
Players can draw their own characters which then come to life and become playable characters in the game! In Challenge Mode, run, jump and fight their way through an exciting side-scrolling adventure. In Village Mode, take a break from the action and hang out in your village to watch your creations interact with the townsfolk, scenery and other Creations. Advance through an entertaining story, and restore your Village to greatness.
Drawn To Life: Spongebob Squarepants Edition
Edit
SpongeBob and Patrick stumble upon a magical pencil that brings whatever it draws to life. Unfortunately, the evil SpongeBob drawing 'DoodleBob' gets a magic pencil of his own which he uses to cause havoc all over Bikini Bottom. Players will draw their own unique hero that has the power to defeat DoodleBob's rogue drawings and rescue SpongeBob and his friends.
Just like in the original Drawn to Life game, players can create characters and objects through the power of doodling on the touchscreen. Create your own character and populate the world with your creativity!
Drawn To Life: The Next Chapter
Edit
In Drawn to Life: The Next Chapter for Wii, players draw their own heroes using the Wii Remote to find the Artifacts of Power and rid the Raposa village of an evil, shadowy figure that has taken over the land. Throughout the game, players draw more than 100 unique items from robust drawing tools, such as vehicles, weapons and tools, to conquer their enemies. The all-new Action Drawing tool allows for objects to be drawn directly into the game to help navigate through several environments, including a sky world, a jungle and a shadow city. In addition, the game's multi-player feature allows players to draw their team members and equipment to compete against others in a variety of mini-games, such as soccer, hockey and basketball.
Drawn To Life Collection
Edit
The Drawn To Life Collection features two games in one package.The games are Drawn To Life and Drawn To Life:The Next Chapter.
Community content is available under
CC-BY-SA
unless otherwise noted.