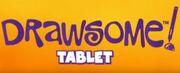 Drawsome is a series of games made for the Drawsome! tablet by Ubisoft similar to the U-Draw.The games are Drawsome! Sketch Quest and and Drawsome Artist.The tablet was relased in December of 2011.
Drawsome Tablet
Edit
The Drawsome Tablet allows the entire family to show off their artistic creativity through an intuitive and engaging device. To stir your creative drive right out of the box, the Drawsome Tablet comes with two games, Drawsome Artist and Drawsome Sketch Quest. Both games encourage players to unleash their creativity as well as challenge players to embark on fun family-friendly gaming adventures.
The Drawsome Tablet features a large 6.5x5-inch screen that allows for unrestricted drawing movements and features an innovative transparency layer that covers the drawing area, so players can trace their favorite images. The tablet comes with a wireless stylus which means players movements will not be limited by a tether; the size, shape, and feel of the pen also allows for a user-friendly experience for children. Everything drawn on the tablet will be displayed in real time on a home television. Using an SD card, users will be able to easily share their masterpieces with friends and family.
Drawsome! Artist
Edit
In Drawsome Artist, players can draw, paint and color by sketching on their own or learning advanced art techniques step by step. They even can interact with their favorite characters from The Smurfs, the world renowned animated brand, and learn how to draw and color them thanks to a huge gallery of predefined models.
Drawsome! Sketch Quest
Edit
In Drawsome Sketch Quest, players embark on an adventure to help a variety of cute animals race through their world by drawing bridges, trampolines and more. With 40 characters and 80 levels there is never a dull moment in either solo play or family-friendly four person co-op.
Community content is available under
CC-BY-SA
unless otherwise noted.