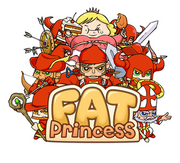 Fat Princess is a series of action-strategy games in which two opposing teams must try to rescue their princess while fattening the other teams
Fat Princess
Edit
Fast-paced and fun, Fat Princess faces two teams against each other in a comical battle of epic proportions. Your goal is to rescue your imprisoned princess from the enemy's dungeon, a la Capture The Flag.Only this time, the flag can weigh in at as much as 300 pounds. You see, to slow your efforts of rescuing your lost leader, the enemy team has been stuffing cake into her mouth, causing her to gain an excess amount of weight resulting in a slower rate of movement for the soldiers carrying her home. Of course, you have been doing the same to their Princess, and it will take a smart, strategic approach for either team to get their Princess home safely.
Fat Princess: Fistful Of Cake
Edit
Sound the trumpets: Fat Princess brings its comical medieval fun to PSP with a host of added features. Franticly-paced and strategic, Fat Princess: Fistful of Cake pits two hordes of players against each other in comic medieval battle royale on PSP. The player's goal is to rescue a beloved princess from the enemy castle. There is a catch, though; the adversary has been feeding her magical cake to make her heavier to carry. Therefore, it will take much of the army working together to carry her across the battlefield.
Team balance and strategy is crucial in Fat Princess: Fistful of Cake, as players can switch between five different character classes literally at the drop of a hat. The name of the game is cooperation, whether it is flinging another player over the enemy's walls with a teeterboard, healing him while he charges into battle, or adding muscle to carry the hearty princess to safety. The comical, quirky and loveable cast of characters in Fat Princess: Fistful of Cake has been developed specifically for optimization on PSP. Now players can have their cake, and take it on the go, too.
Pinball Heroes:Fat Princess
Edit
Pinball Heroes is a mix-and-match set of games that feature pinball tables based on your favorite PlayStation games! Each table has its own set of unique table rules, game modes and more to keep you on your toes. This table was made available as part of the Pinball Heroes Bundle 2 package.
You've got their princess, and they've got yours. Prove yourself to be a true and brave Pinball Hero by rescuing your Red Princess! You'll have to chop wood and mine ore to collect the resources you need to build or upgrade your Hat Machines, a Bridge or even a Catapult. Bash down the enemy's doors to enter their castle and save your fair lady! But be sure to be accurate; missed shots will advance the blue fiends towards your castle where they will steal your prisoner.
Community content is available under
CC-BY-SA
unless otherwise noted.