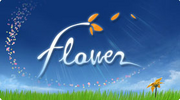 Flower is a highly acclaimed, unique PSN exclusive that allows you to control the wind and collect flower petals while exploring a lush, colorful environment. Its innovative gameplay often seeks to create a soothing and relaxing experience through a combination of visuals and audio to
complement the narrative.
In it, the player controls the wind, blowing a flower petal through the air using the movement of the game controller. Flying close to flowers results in the player's petal being followed by other flower petals. Approaching flowers may also have side-effects on the game world, such as bringing vibrant color to previously dead fields or activating stationary windmills. The game features no text or dialogue, forming a narrative arc primarily through visual representation and emotional cues. Flower is divided up into six main levels and one credits level.
Best Indie Game - Playboy
Best Original Soundtrack - X-Play
Best Independent Game of the Year - SpikeTV Video Game Awards
Best Downloadable Game of the Year - TheSixthAxis
Download Game of the Year - 1UP
Best Downloadable Game - GameSpy
PS3 Special Achievement for Innovation - IGN
Best Original Game - UGO
Casual Game of the Year - AIAS
Community content is available under
CC-BY-SA
unless otherwise noted.