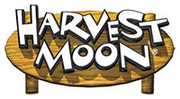 Harvest Moon (牧場物語 Bokujō Monogatari?, lit. "The Farm Story") is a farm simulation role-playing video game series originally created by Yasuhiro Wada in 1996 and produced by Victor Interactive Software (later acquired by Marvelous Entertainment in 2003). English translation and distribution of the game is done by Natsume (and Rising Star Games in Europe). The object of the game is to maintain a farm over a period of time, tending the crops and livestock through the seasons, while befriending the nearby townsfolk and getting married in some games. The first game was Harvest Moon, released for the SNES in 1996. Games in the series have also been produced for Game Boy and GBA, Nintendo 64, PlayStation, PlayStation 2, GameCube and Nintendo DS; with new titles for PSP, Nintendo DS, and for the Wii and PlayStation 3.
Most gameplay in the Harvest Moon games consists of planting seeds to grow fruits, vegetables, flowers and herbs, and collecting items, making home improvements, and building personal relationships. A successful farmer must weigh in the cost, sell price, number of harvests, and growth times of the various types of produce in order to pick the best product for each of the seasons. One can also go fishing and mining for extra profit.
The ultimate challenge is for the player to manage their time. There is only a short amount of time in each game day, and the player only has a set amount of energy. They must balance their time and strength by working on the farm and making friends with the people in town.
The player's character has mostly been male, but some of the newer games offer the option to play as a female character. A common theme throughout the series follows the storyline wherein the player inherits a relative's or an old friend's farm, and is then taken through the various aspects of farming such as growing crops, raising livestock, making friends and ultimately finding a partner. Each game provides objects to collect or goals to complete, whether it be befriending villagers, collecting musical notes, finding sprites, making rainbows, or ringing bells.
Community content is available under
CC-BY-SA
unless otherwise noted.