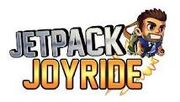 Jetpack Joyride is a "one-touch" game where Barry Steakfries the player character, is running along in a lab. When the player touches the screen he lifts up into the air with the incredible power of the Machinegun Jetpack. The goal of the game is to avoid the obstacles and get as far as possible before dying with the aid of vehicles and power-ups. At the end of every "run" there is a slot machine game that will grant the player various power-ups and additional coins
Barry Steakfries is a white-color worker who is sick of his job at a secret lab. One day when he is about to scan his finger to gain entrance into the building he sees some scientists testing a jetpack made out of machine-guns through the window to the lab. After dreaming about the possibilities of owning a machinegun jetpack , he jumps through the window, rips off the sleeves of his suit and takes off through the lab to escape.
Jetpack Joyride is a one-touch game focusing primarily on distance.In Jetpack Joyride you try to go as far as you can using different vehicles such as Bad As Hog,Mr.Cuddles,Lil' Stomper,Gravity Suit,Crazy Freaking Teleporter,and Profit Bird.At the end of each run if you got a spin token you can get a special prize sometimes something like more spin tokens or a second chance.
Community content is available under
CC-BY-SA
unless otherwise noted.