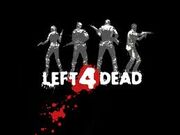 Setting out to do for co-op gaming what Counter-Strike did for team combat, Left 4 Dead is an ambitious survival horror game. Running on the Source engine, Left 4 Dead leaves four armed survivors of a world overrun with zombies, and they must fight their way out to escape the outbreak.
Designed for co-op play, the four players must work together to finish each stage of the game, lending each other artillery support, sharing ammo and rescuing each other when zombies are on top of them. In addition to the standard four players as humans, another four players can be amongst the masses of assaulting zombies, seeking to take down the other players. Zombie players might even find themselves become one of the four mutant "boss" zombies, who have unique powers that can be used to devastate, injure, tie up, mark and track, confuse, or even humiliate the gun-toting human survivors.
Left 4 Dead 2
Edit
Set in the zombie apocalypse, Left 4 Dead 2 (L4D2) is the highly anticipated sequel to the award-winning Left 4 Dead. This co-operative action horror FPS takes you and your friends through the cities, swamps and cemeteries of the Deep South, from Savannah to New Orleans across five expansive campaigns. Play as one of four new survivors armed with a wide and devastating array of classic and upgraded weapons. In addition to firearms, you'll also get a chance to take out some aggression on infected with a variety of carnage-creating melee weapons, from chainsaws to axes and even the deadly frying pan. You'll be putting these weapons to the test against (or playing as in Versus) three horrific and formidable new Special Infected. You'll also encounter five new "uncommon" common infected, including the terrifying Mudmen. Helping to take L4D's frantic, action-packed gameplay to the next level is AI Director 2.0. This improved Director has the ability to procedurally change the weather you'll fight through and the pathways you'll take, in addition to tailoring the enemy population, effects, and sounds to match your performance. L4D2 promises a satisfying and uniquely challenging experience every time the game is played, custom-fitted to your style of play.
Community content is available under
CC-BY-SA
unless otherwise noted.