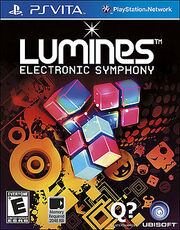 A brand new entry in the Lumines series for the Playstation Vita.
Lumines Electronic Symphony now uses animated 3D blocks instead of 2D sprites, which further integrates dynamic lighting and animations mechanics. Along with high quality graphics, audio has been tailored in the game to be integrated with music and game sounds. The game will use the front touch screen controls to move and rotate blocks but will also support analog and D-pad controls.
In previous Lumines titles, a player unlocked skins based on their ability to successfully reach that skin. However, in Lumines Electronic Symphony, an XP system has been integrated. Now all the points that a player receives in a session are converted into XP, so as the player levels up, additional skins and avatars will be unlocked.
Each avatar has a single player and multiplayer ability mapped to them. Players will unlock more avatars and find the abilities that best suit their style of play.
Soundtrack
Edit
808 State - "Pacific 707"
Aeroplane - "Superstar"
Air - "Kelly Watch the Stars"
Amon Tobin - "Wooden Toy"
Anything Box - "Automatons"
The Art of Noise - "Close (to the Edit)"
Aphex Twin - "Windowlicker"
Bebel Gilberto - "Aganju"
The Beloved - "The Sun Rising"
Benny Benassi - "Good Girl"
B.T. - "Embracing the Future"
The Chemical Brothers - "Dissolve"
The Chemical Brothers - "Hey Boy Hey Girl"
Deep Dish - "The Future of the Future (Stay Gold)"
Faithless - "Flyin' Hi"
Goldfrapp - "Rocket (Tiesto Remix)"
The Go! Team - "Apollo Throwback"
Gouryella - "Gouryella"
Howard Jones - "Celebrate Our Love"
Ian Pooley - "What's Your Number"
Kaskade - "4 AM"
Ken Ishii - "Sunriser (Publicmind Remix)"
LCD Soundsystem - "Disco Infiltrator"
LFO - "Moistly"
Mark Ronson & The Business - "Bang Bang Bang"
Mylo - "In My Arms"
Pet Shop Boys - "Yesterday When I Was Mad (Jam & Spoon Mix)"
Safri Duo - "Played-A-Live (The Bongo Song)"
SCSI-9 - "Autumn Love"
System F - "Out of the Blue"
Underworld - "Always Loved a Film"
Wink - "Higher State of Consciousness"
Wolfgang Gartner - "Wolfgang's 5th Symphony"
Also, Orbital's "Never" is used for the credits of the game.
Community content is available under
CC-BY-SA
unless otherwise noted.