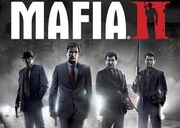 MAFIA brings the underworld of the 1930s to life in this third-person 3D action game. Rise from the lowly but well-dressed Footsoldier to the envied and feared Made Man in the era of big bands, zoot suits, and Model Ts. Take on the role of a hit man, enforcer, getaway driver, and more in your struggle for respect, money, and power within the Salieri Family. The game features 20 action-packed missions with sub-quests in a city more than 12 square miles large. From mob hits, car chases, shootouts and more, complete the unsavory tasks the Family requires done and you will be handsomely rewarded. Originally only released for PC, Mafia was later ported to consoles.
Featuring a deep mobster-driven narrative packed with both behind-the-wheel and on-foot action, Mafia 2 is the sequel fans have been clamoring for. Like the original Mafia title, Mafia 2 immerses players in the mob underworld of a fictitious late 1940's-early 1950's scenario. Players easily become engaged in the game's cinematic Hollywood movie experience with strong, believable characters in a living, breathing city.
Community content is available under
CC-BY-SA
unless otherwise noted.