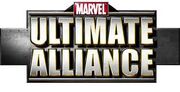 In this superhero-filled action-RPG, players assume the roles of more than 20 Marvel Super Heroes including Spider-Man, Wolverine, Blade and Captain America, and through their actions determine the fate of both planet Earth and the Marvel universe. The game features total team customization, where players create their own team name, icon and vehicle, as well as establish their team reputation as they play throughout the story. Battle the world's most notorious Marvel Super Villains in the air, underwater, and on the ground, using grappling, blocking and dodging moves, and even environmental objects as one and two-handed weapons. The storyline is designed open, and the missions that you choose to accept affect the outcome of the Marvel Universe. Also featured are competitive and co-operative multiplayer modes.
Marvel: Ultimate Alliance 2
Edit
The "greatest Super Hero action/RPG of all time" is back with the world's largest army of heroes and villains in Marvel: Ultimate Alliance 2. Incorporating elements of the acclaimed Marvel Civil War storyline, the game allows players to choose their side and team up with revered heroes and villains, including Spider-Man, Wolverine, Hulk, Iron Man, Deadpool, Venom, Green Goblin and Captain America. Players can combine characters' powers and unleash astonishing new attacks.
Marvel:Ultimate Alliance\FORZA 2 Pack
Marvel:Ultimate Alliance:Gold Edition
Community content is available under
CC-BY-SA
unless otherwise noted.