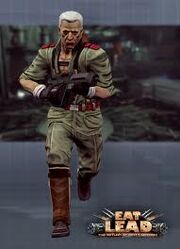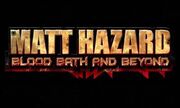 Matt Hazard is a series of shooters made by D3.It is for the Xbox 360 and PS3.The second game in the series was downlodable and rated M instead of the first game which was rated T.Matt Hazard used to be an arcade game series but was reeboted in 2009.
Eat Lead:The Return Of Matt Hazard
Edit
In Eat Lead: The Return of Matt Hazard, videogame action hero Matt Hazard gets his chance to prove once and for all that he is the king of shooters when the new owner of mega game publisher, Marathon Megasoft, gives Matt his comeback role starring in a new title for next-gen consoles that pits him against all of his memorable foes from videogames past. In the world of Eat Lead, however, everything stops being a game and becomes reality when it is clear that someone is using the new game to bring about Matt's death once and for all. With only the mysterious QA to help him, Matt must fight against a legion of Marathon Megasoft catalogue of videogame characters to keep it from being Game Over forever. Eat Lead pays homage to the games of yesteryear with a menagerie of classic enemies such as zombies, space marines, cowboys, genetically mutated super snipers, and more and an expansive level environment design that reflects videogame history in a next-gen package. The game fires on all cylinders with explosive artillery and combat moves to help gamers escape from a variety of predicaments including radically-changing environments during gameplay via hack effects Hazard's nemesis uses by altering the game's code on the fly. Throughout the adventure, players will utilize a strategic cover system dubbed point and cover, upgradeable weapons and different interactive melee moves to attack and outsmart foes.
Matt Hazard:Blood,Bath,and Beyond
Edit
General Neutronov, one of Matt's nemeses has reactivated all of Hazard's greatest enemies from the past. Matt has no time for a stroll down memory lane as he chases Neutronov through the games of the past in order to save his future.
Matt Hazard: Blood Bath and Beyond is a flood of carnage that the classic 8-bit side-scroller era didn't want gamers to see. Recreated today with next-gen 3D graphics, it's nonstop run-and-gun action at its finest. Take a suspenseful ride in single player or co-op through a pirate hideout, an ancient Japanese castle, the Old West, Siberian ice mines, and even the moon and relive some of the most classic and violent moments in Matt Hazard's videogame history.
Community content is available under
CC-BY-SA
unless otherwise noted.