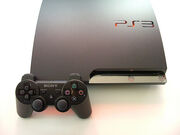 General Info
Edit
The PlayStation 3 (プレイステーション3 Pureisutēshon Surī)?, officially abbreviated as PS3, is the third home video game console produced by Sony Computer Entertainment and the successor to the PlayStation 2 as part of the PlayStation console series. The PlayStation 3 is one of the seventh generation video game consoles.
The Playstation Move was released as a periphial to the PS3. It is has a resembelence to the Kinect and Wii.The Psmove is known for bieng the most expensive periphal compared to the Kinect and Wii Motion Plus.
PSN (reffered to as the Playstation Network) is a downlodable game market.Simalir to Xbox Live and Wiiware the PSN is known for the franchise Wipeout.It was hacked in 2011 by the hacking group Anonyounmus.It took 2 months to recover.
Community content is available under
CC-BY-SA
unless otherwise noted.