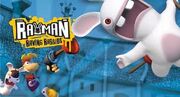 Rayman Raving Rabbids, known in French as Rayman contre les Lapins Crétins (literally "Rayman against the Moronic Rabbits"), is a spinoff in the Rayman series.It was made by Ubisoft and after this game the Rabbids developed a cult following.After a few games the spinoff series the games became a Wii exclusive.
Rayman Raving Rabbids 2
Edit
Those mischievous bunnies are back! After having invaded the world of Rayman, the insane Rabbids have a new objective: THE INVASION OF PLANET EARTH! They have established their base in a nearby shopping mall and have just begun training for their nastiest scheme yet! As part of their training, the Rabbids must carry out several missions around the globe to prepare themselves for World Domination. Rayman will now attempt to foil their plans by infiltrating their camp as one of them and hopefully stop this insanity!
Rayman Raving Rabbids: TV Party
Edit
Note:This is the last game in the Rayman Raving Rabbids series.After this the series was dubbed Raving Rabbids or Rabbids. First they invaded the world and, now your TV. The Rabbids have taken over almost every channel you can imagine, from music to movies – even TV ads. Help the Rabbids destroy all our daily viewing and drive Rayman crazy. In Story Mode, play through a week of television, with each day bringing new wacky challenges of skill and insane movements in a compilation of mini-games. With up to eight players in turn-based mode and four players simultaneously, get ready for you and all your friends to go insane. Unique use of the Wii Balance Board: Play loads of exciting new games with the new Wii Balance Board and experience the first game in the world that you can play with your rear end. New wacky games. 65+ brand-new games that spoof popular culture, from TV series to TV classics, not to mention insane ads. Play co-op or battle your friends simultaneously with up to four players, or go crazy with up to eight players in party mode. You can even sabotage your friends while they are playing. Unique use of the Wii Remote. Discover new and innovative ways to play with eight types of gameplay, including shaking, precision, dexterity and balance. Shake that Rabbid. Use the Wii Remote and Wii Balance Board to dance and wiggle your booty. Customize your bunny. Pimp your bunny out, take his photo and send it to your friends online.
Community content is available under
CC-BY-SA
unless otherwise noted.