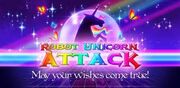 The Robot Unicorn Attack games are iOS\PC based games centered around robotic unicorns dash through randomly-generated maps, jumping over pits and dashing through rocks. It is available for the IPad for 99 cents.
Robot Unicorn Attack
Edit
Robot Unicorn Attack was originally a Flash game that was published on the web site of Cartoon Network's mature animation branch, Adult Swim. Consisting of a simplistic premise that involved controlling the titular robotic unicorn as they attacked stars and fairies in an automatically scrolling stage, the game became a smash hit on the Internet, thanks in part to the attention it garnered on sites such as 4chan. From start to finish, the game's only background song in the soundtrack is the Erasure song titled "Always," the usage of which helped further popularize Robot Unicorn Attack. The game was eventually released as an app for the iTunes store, as well as garnering a Facebook version and general merchandise.
Robot Unicorn Attack: Heavy Metal
Edit
Adult Swim's enchanting tour de force Robot Unicorn Attack takes a mystical journey into darkness. Gallop through a treacherous landscape of bones and talons, unleashing your wrath on exploding pentagrams and floating demons to the punishing sounds of "Battlefield" by legendary German metal gods Blind Guardian. Because sometimes you just need a rainbow and sometimes you need to rip open the heart of evil.
Robot Unicorn Attack: Christmas Edition
Edit
A Christmas themed edition of the Adult Swim owned game series Robot Unicorn Attack. This one features holiday music.
Community content is available under
CC-BY-SA
unless otherwise noted.