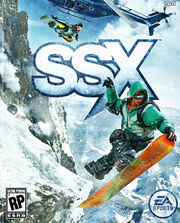 SSX is a series of snowboarding and skiing (added in On Tour) videogames published by EA Sports BIG. It is an arcade-style racing game with larger-than-life courses, characters, and tricks. While the general focus of the series is racing and performing tricks on snowboards, the underlying gameplay of each edition alters slightly; for example, while the original SSX relies on a working knowledge of speed and trick boosts, SSX On Tour requires players to complete different "phat" combos and "monster tricks". SSX is intended to be short for "Snowboard Super Cross", but the complete title has almost never actually been referred to in any way in the marketing or promotion of the games or within the games themselves.
The franchise has been critically acclaimed, with the first three installments receiving over 90.00% on Game Rankings. Initial sales for the game have been kept a secret by publisher EA, but SSX 3 in particular was widely believed to be a commercial success. Most of the games have been released only on Sony and Nintendo consoles, with the first game being released exclusively on the PlayStation 2 and the most recent being released on the Wii. In 2009, EA revealed the series was being developed with the Sega Dreamcast in mind, but once they made the decision not to support the console, it was moved over to the PlayStation 2. However, after the first game was a commercial flop, EA decided the series would be multiplatform, thus leading to SSX Tricky and its sequels.
Community content is available under
CC-BY-SA
unless otherwise noted.