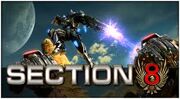 Section 8 is a large-scale, futuristic first person shooter that brings strategy and tactics to the first-person shooter genre in a game where players can modify the battlefield on the fly.
The game's name refers to the super elite squad of powered armor infantry that serve as the focus of the single-player content. The squad's nickname is because of its penchant for taking on suicide missions that no one else will tackle. This game was only avalible on retail for the Xbox 360 and downlodable for PSN and PC.
Section 8:Prejudice
Edit
In the distant future, humanity will call on its most fearless defenders to confront an emerging threat determined to eradicate all human life as we know it. Section 8®: Prejudice™ is a sci-fi first-person shooter with dynamic combat, where every decision – from customizing equipment to activating team based objectives – drastically impacts the battlefield.
Community content is available under
CC-BY-SA
unless otherwise noted.