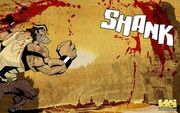 Featuring a unique art style inspired by graphic novels and golden age comics, Shank blends the intensity of classic 2D side-scrolling action games with a gripping and mature storyline. Betrayed by the only family he ever knew and left for dead it's up to Shank to seek revenge for the death of his beloved at the hands of the underworld's deadliest assassins. Utilizing his knowledge of gang warfare and weaponry Shank must battle his way through the criminal underground in order to seek revenge against the people responsible for bringing his world crashing down around him.
Shank 2 was announced in a GameInformer issue in the section where they talk about upcoming downlodable games.Not much is known about Shank 2 but we do know that it will come out in 2012.
Community content is available under
CC-BY-SA
unless otherwise noted.