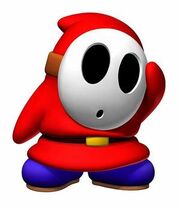 Shy Guys are masked hoodlums of the Mario Universe.
Shy Guys are undetermined enemies of the Mushroom Kingdom and have served as progressive antagonists in the Mushroom World. Shy Guys don't seem to care about what they're doing as long as it entertains them.
Variations
Edit
There are many different variations of Shy Guys: Snifits, which have a cannon for a mouth; Fly Guys, which have spinning propellers on their heads; Sky Guys, which have balloons attached to their robes; Spy Guys, which are dressed in camouflage clothing; Boo Guys, which are ghosts; Boom Guys, which have a cannon on their head; and Spear Guys, which have spears and are found near jungle temples. Snifits were introduced in Yume Kōjō: Doki Doki Panic. Two other variations of Snifits appear in Mario & Luigi: Bowser's Inside Story, as well as Fawful Guys. A stronger version, the Dark Fawful Guy, appears later in this game.
Community content is available under
CC-BY-SA
unless otherwise noted.