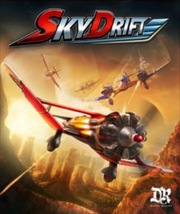 SkyDrift is an arcade style, aerial racing game that was released Sept. 7, 2011 on X-Box Live and Play Station 3 networks. It was later released on Nov. 21, 2011 on Steam.
The game is not set on the surface of the earth, but in the air with various types of modern planes, and with different offensive and defensive powerups to be collected, hectic aerial combat is to be expected according to the developer ""Your goal is simple: if you can't overtake them, shoot them down!"
The game features:
33 racing events on several reversible tracks and various settings inspired by real world locations.
8 different planes with altogether 32 different skins, 4 skins for each plane.
6 different powerups to look for while racing.
Changing "living" tracks.
Several multi- and Singleplayer game modes like SpeedRace or Survival.
Online Leaderbords.
8 player online multiplayer.
Community content is available under
CC-BY-SA
unless otherwise noted.