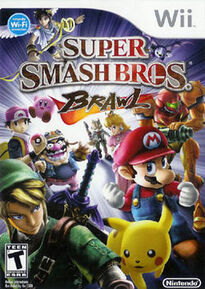 Super Smash Bros. Brawl
is a fighting game where you chose a Nintendo series Characters and start to battle other players. You can chose brawl, the freeform of battling CPUs and friends. Solo, were you can fight threw a battle line.
Suspace Emissary
, were you can fight to beat the evil Taboo and a storyline with certain characters. All Star Mode, you fight all characters. Data, to view the Movies and music you collected through the story. Wi fi, you can battle far friends, close friends and other people from around the globe. Vault, where you can view the trophies and stickers. Coin Catcher, you use your coins to win prizes. And Sticker Album and Photo Album, view stickers and photos.
Characters
Edit
Main article: List of characters in Super Smash Bros. Brawl
The Subspace Emissary
Edit
The Subspace Emissary is basically the story mode for the game. You have to play as certain characters and complete certain events coming with short movies to tell you what's going on.
Community content is available under
CC-BY-SA
unless otherwise noted.