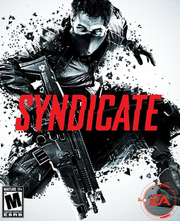 Syndicate is a re-make of the 1993 game by Bullfrog. The game was made at Starbreeze Studio, and also the game has been described as a "visceral first-person shooter".
2069: No longer governed by politicians, the developed world is divided up into regions controlled by mega-corporations known as syndicates. These syndicates have revolutionized how the consumer interacts with the digital world. Since the consumer requires a device to access the world's data and control technology, they can do this in the blink of an eye via neural chip implant.
Civilians flocked to be "Chipped" and enjoy all that their selected syndicate has to offer: housing, medical, banking, insurance, education, entertainment and jobs. One complete package. One complete lifestyle. In return, the syndicates gained unprecedented insights, and control, over the individual and their behavior. With little government oversight, business has become war. The syndicates will stop at nothing for ultimate market dominance.
At the first line of this war are the agents, the syndicates' bio-engineered and chip-augmented enforcers. They can breach anything in the wired dataverse, including their enemies, their weapons and the environment that surrounds them, making them the most efficient and deadly technological weapons in the world. Take on the role of Miles Kilo, EuroCorp's latest prototype agent, and embark on a brutal action adventure of corruption and revenge.
The game is a first person shooter that will have "bio-engineered and chip-augmented enforcers" that are backed by the corporations. Players will use implanted chip technology to breach and manipulate the digital world, and dispatch foes through various means, whether it is with digital hacking tactics, or brutal physical punishment.
The game will also have a four player co-op mode, where team work is heavily emphasized. Players are able to select different weapon and technology packages to portray certain game play roles. Because the multi player is not competitive based, there will be no Online Pass required to play the multi player content.
Controversy
Edit
The game was banned in Australia for being to violent.
Reception
Edit
Giant Bomb gave it a 5 out of 5.
Community content is available under
CC-BY-SA
unless otherwise noted.