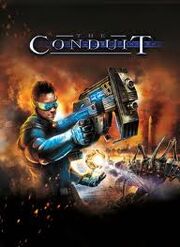 After a full-scale alien attack on Washington D.C., suspicions arise as to the involvement of the U.S. government. Armed with sci-fi gadgets and high-powered weapons, players will battle aliens, rogue agents and enemy forces as a former secret service agent codenamed "Mr. Ford."
Built exclusively for Wii, The Conduit pushes the boundaries of the platform from incredible award-winning graphics to robust online multiplayer to robust controls that are customizable on-the-fly. This action-packed, first-person shooter from the creators at High Voltage Software also supports the Wii Speak peripheral.
Conduit 2
Edit
Building upon the success of the original, Conduit 2 will take players to the far reaches of the world to stop an alien invasion that can be fought in single-player, online multi-player battles, and all-new off and online co-op modes. Armed with advanced and powerful weapons, players can expect massive action in large, multi-tiered levels featuring dynamic environments, cinematic battles, giant boss enemies, and deep customization features.
Community content is available under
CC-BY-SA
unless otherwise noted.