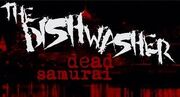 A series of highly stylised downloadable 2D action games available on the Xbox Live Arcade service. The games are very bloody and gruesome in their nature.
The Dishwasher:Dead Samurai
Edit
An independent project designed using the XNA development suite and rewarded with a publishing contract on Xbox Live Arcade Marketplace via a win at the Gamefest 2007 Dream-Build-Play contest.
The Dishwasher: Dead Samurai is a 2-D stylistic action platformer showcasing fast action, deep gameplay, and a unique visual style. An undead samurai dishwasher in a dystopian universe is on a quest for revenge against the evil cyborg army. To dispatch hordes of zombies, cyborgs, and robots, the Dishwasher has at his fingertips a devastating array of attacks using ancient blades, disturbing machinery, and screen-obliterating Dish Magic. Compete with the rest of the world in a variety of speed run and high score challenges to become the most formidable Dishwasher yet!
The Dishwasher:Vampire Smile
Edit
The followup to 2009's Dead Samurai, The Dishwasher: Vampire Smile is a combo-fueled, fast-paced, stylistic 2D
action platformer that features the series' staple gritty, graphic novel-inspired art style, built on a brand new engine that allows for an even more visually gruesome experience.
Community content is available under
CC-BY-SA
unless otherwise noted.