TimeSplitters is the first game in the TimeSplitters trilogy, released as an exclusive launch title for the PlayStation 2 on 26 October 2000 and receiving ratings of T for Teen from ESRB and 15+ from ELSPA. The game contains the Mapmaker, nine Story missions, four-player arcade, over 50 characters and a Challenge mode which unlocks the game's features.
Arcade Mode
Edit
Arcade mode is where you can pretty much play, single player or multiplayer and customize it to your liking.
Challenge Mode
Edit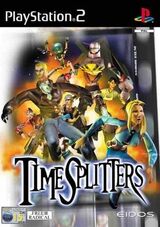 Challenge Mode is unlocked after beating the Spaceways Story level. It has many missions with a high difficulty level. The objectives range from fighting off TimeSplitters on a spaceship to battling for a bag of bones in a graveyard. Challenge Mode unlocks more characters and cheats for use in Arcade Mode.
This is the only game to only be rated by ESRB and ELSPA.
ESRB did not include a rating for Alcohol Reference.
Community content is available under
CC-BY-SA
unless otherwise noted.