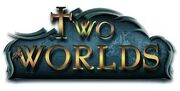 Two Worlds combines the dynamic combat system the meaning and freedom of exploration. The ultimate goal of the Two Worlds project is to deliver a superior Role Playing Game to the PC and Xbox 360 market where players have a real chance to shape the game world with their actions - to an extent that has yet to seen in other productions. This premise is supported with a strong, non-linear storyline and stunning combat sequences. The world comes to life as it immediately reacts to the player's actions and changes accordingly - offering new and exciting challenges. Players can shape their own story by choosing the path of conducting the main conflict and resolving meaningful side-quests. The combat system combines intuitive steering, tactical challenges and movie-like visual experiences. Players can experiment with different careers and even reverse their former choices with the help of "career changers". Players can travel and fight on various animals from horses to tamed lizards and beasts. Randomly generated pieces of equipment, thematic sets and combined items offer the space to experiment and satisfy the need to collect.
Two Worlds II
Edit
Two Worlds – The Temptation expands the RPG adventure by introducing new game content, extending gameplay and providing you with the answers to many questions and mysteries which arose in the main story. Besides several well-known regions of Antaloor, there are also completely new territories to explore. The combat system has been further enhanced too, with an active blocking system, a completely new means of transport, a much-enhanced reaction system from NPCs, and other tweaks.
Two Worlds II:Castle Defense
Edit
Prepare for the tactical intrusion of Two Worlds II: Castle Defense, a strategy game based in the acclaimed fantasy universe of Antaloor. The story itself takes place between Two Worlds and Two Worlds II, giving the player some surprising back story about the conflict between Gandohar and the Orcs of Antaloor. Only now, slip into the mighty boots of Gandohar himself and the fan favorite henchman- Sordahon.
The gameplay of Two Worlds II: Castle Defense makes the player utilize tactics and upgrades to defeat each wave of enemies successfully. The dark forests, abandoned ruins and winding catacombs will be stained with blood as the fight against the onslaught of Orcs ensues over the five beautiful regions. With the Arena mode and Highscore function, Castle Defense raises the bar for the ultimate challenge against online opponents from all over the globe!
Other\DLC
Edit
Two Worlds II:Royal Edition
Two Worlds II:Pirates Of The Flying Fortress
Two Worlds II:Velvet Game Of the Year Edition
Two Worlds:Epic Edition
Two Worlds:Curse Of Souls
Two Worlds:Tainted Blood
Two Worlds II:Castle Defense HD
Community content is available under
CC-BY-SA
unless otherwise noted.