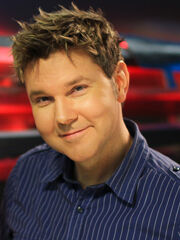 Creator, executive producer and co-host of "The Electric Playground," and "Reviews on the Run," Victor Lucas is a videogame television pioneer. His first original TV series, "The Electric Playground," hit the airwaves in 1997 and is now a daily TV series seen coast to coast in Canada and the US.
Victor is also the creator and executive producer of one of the world's first High Definition videogame TV series, "The Art of Play" for Gameplay HD and the creator, executive producer and host of the Emmy-winning, "GameTap News," for Turner's GameTap network. Additionally, Victor, through his Vancouver-based company, Greedy Productions Ltd., was the executive producer of two technology-based programs produced for G4TechTV Canada: "The Lab with Leo Laporte" and "Torrent." Victor also executive produces, directs and narrates documentaries through his company's Greedy Docs division and has worked with numerous partners over the years including Activision, Sega, Kojima Productions, Bethesda, Disney and Warner Brothers.
Recent projects include, "The Making of Metal Gear Solid 4," "Awakening The Giants: The Making of Turok," "The Vault-Tec Files: The Making of Fallout 3," "The Making of Iron Man," and "The Making of The Incredible Hulk."
Victor Lucas had a baby named Ruby in Feb 2012.
Community content is available under
CC-BY-SA
unless otherwise noted.