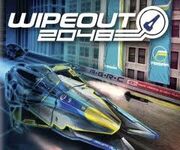 Sony's flagship future racing series returns again as one of the launch games available for Sony's PlayStation Vita.
Wipeout 2048 is set in the near future, and relative to previous games, takes place much earlier in the Wipeout timeline, as the new sport of anti-gravity racing is beginning to emerge, making it a prequel. As such, dedicated racing tracks are yet to be built, and so races take place in city streets. Set in Studio Liverpool's interpretation of New York city in the near future, races will be three-tiered, with lower levels showing off architectural details, while higher levels will show off the modern, futuristic elements of the city. Tracks will also be wider than previous entries, which the team hopes will allow for greater use of combat.
Soundtrack
Edit
The soundtrack is a mix of old versus new tracks from the Wipeout universe, featuring remixes of classic song from the series, including a 2011 rebuilt of "We Have Explosives".
Anile - "Change of Direction (WipEout mix)"
Camo+Krooked - "Breezeblock (WipEout mix)"
The Chemical Brothers - "Electronic Battle Weapon 3"
Deadmau5 - "Some Chords (WipEout mix)"
DirtyLoud - "School of Funk"
DJ Fresh feat. Sian Evans - "Louder (Drum Sound & Baseline Smith Mix)"
Future Sound of London - "We Have Explosives (2011 Rebuilt) [WipEout Mix]"
Kraftwerk - "Tour de France 2003 (WipEout edit)"
Noisia - "Regurgitate (WipEout 2048 edit)"
Orbital - "Beezledub"
Orbital - "P.E.T.R.O.L. (Final drop mix)"
The Prodigy - "Invaders Must Die (Liam H re-amped mix)"
Rockwell - "BTKRSH (WipEout edit)"
Underworld - "Kittens (Will Saul and Tam Cooper remix)"
Like the other Wipeout games propel players at breakneck speeds around many courses. The games tracks run through more city and urban environments giving it a more modern feel other than the fact you are still piloting advanced, jet propelled hover vehicles.
2048 is also stated to have interconnecting game play between the Vita and the PS3 platform. Multi-player is said to be able to occur between both platforms so a person on the PS3 can play the same race with a Vita owner.
Community content is available under
CC-BY-SA
unless otherwise noted.